hope brings you home 2020
Published: 11 Feb 2020
UPDATED: 20 Mar 2020 - Today the Nevada Housing Division announced the Hope Brings You Home program for 2020 is fully funded. Which means the funds are now depleted. Even though this program is over, many other Home Is Possible and Down Payment Assistance programs are available. Find out which one is right for you by applying here: www.BillMerrenLoans.com
The Nevada Hardest Hit Fund was awarded a staggering $17,900,000 to provide down payment assistance equal to 10% of the purchase price up to $20,000. Usable for both a buyer's down payment and buyer closing cost for qualifying homebuyers in Southern Nevada.
The Nevada Housing Hope Brings You Home (HBYH) program is for a limited time only on a first-come-first-served basis.

U.S. Senator Catherine Cortez Masto announced the release of funds on Monday, February 10, 2020.
"I worked closely with Treasury to secure this assistance, and I'll continue working with the Administration to ensure the timely release of resources that help prospective homebuyers in the Silver State," Cortez-Masto said. "I appreciate the Nevada Affordable Housing Assistance Corporation and Nevada Housing Division leaders who made sure the program met the requirements so we could utilize all the funds awarded." -Senator Catherine Cortez Masto (First appeared on News 3 Las Vegas)
So, what's this meant to you? If you've been on the fence about buying your new home then now just might be the right time. This program won't last long and doesn't come around often. In fact, the last time the HBYH program was available was during the Spring of 2018. Back then, the Nevada Hardest Hit Fund had $36,000,000 available to back the Hope Brings Your Home Program of 2018. The funds were exhausted in only 59 days.
Let's break down the numbers so you can see how fast this rare opportunity will go in 2020!
Sure, $17,900,000 is massive $$$$, at the same time, if a qualified home buyer can get up to $20,000 down payment assistance, that means only 895 home buyers in Las Vegas or Southern Nevada will have the chance to get into their new home with virtually no money out of pocket!
MATH: $17,900,000 / $20,000 = 895
HOPE BRINGS YOU HOME GUIDELINES:
1. Get approved up to $400,000 with a Conventional loan, VA loan, or USDA loan with a 640 FICO score. Debt-to-Income Ratio up to 45%
2. Get approved up to $400,000 with an FHA loan and a 660 FICO score. Debt-to-Income Ratio of up to 45%
Find Your Debt to Income Ratio using this Mortgage Calculator

3. Qualifying annual gross income under $98,500 per buyer.

4. Loan Types: FHA, VA, USDA, & Conventional (Freddie Mac HFA Advantage)
5. Home Buyer Education Required
6. Eligible Properties: Existing single-family homes, townhomes and condos. NO NEW CONSTRUCTION.
7. 3-year NO interest, NO payment forgivable note. 1/36 forgiven each month you live in the home.
8. Must live in the home as a primary residence.
9. The borrower cannot have an ownership interest in another property.
10. Must meet standard underwriting requirements.
11. Attractive interest rates. See Ehousing Nevada for more information: EHousing Plus

12. You can buy your new home in 20 Zip Codes.
Hope Brings You Home NV Approved Zip Codes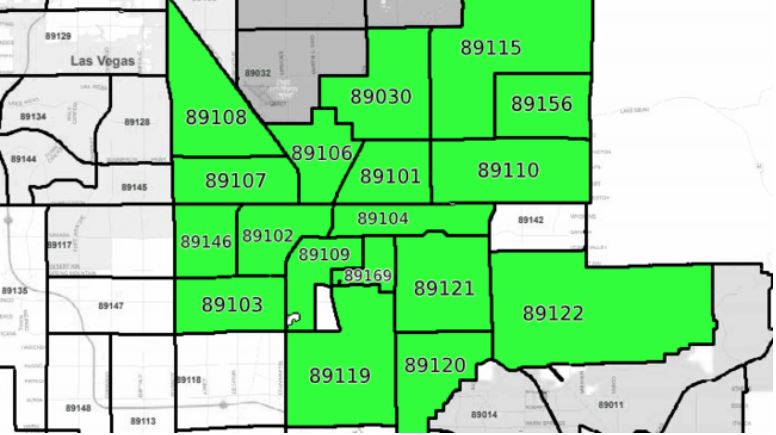 *Plus 2 Hope Brings You Home Zip Codes in Nye County (Pahrump)*
Click The Zip Codes Below to Search for Homes For Sale Within The Hope Brings You Home Approved Zip Codes
Las Vegas Hope Brings You Home Zip Codes
North Las Vegas Hope Brings You Home Zip Codes
Pahrump Hope Brings You Home Zip Codes
Hope Brings You Home Approved Lender - Click Image to Apply Online