Homebuyer Cancellations SOAR! | The FINANCIAL RISK of Killing the Deal NO ONE is Talking About!
Posted by Andrew Finney on Monday, October 10, 2022 at 1:37 PM
By Andrew Finney / October 10, 2022
Comment
Homebuyer cancellations soared in August, with 64,000 buyers walking away from a deal. To put it another way, 15.2% of all homes under contract are falling apart.
According to Redfin, this is "the highest level on record with the exception of March and April 2020 resulting from the pandemic."
I wonder what happened to their earnest money deposit when they canceled – did they lose their good faith deposit worth a minimum of several thousand dollars? Now that's a good question!
According to this post by FORBES, the Sun Belt States are seeing most buyers fleeing the heat of real estate. In their report, they cite a recent REDFIN analysis.
Redfin charts out the details for the top 50 metros with vanishing homebuyers. To save you time, we'll look at the top 10.
Top 10 Declining Metros
Redfin's study found that hardest hit metros "are located in the Sun Belt, which surged in popularity among homebuyers during the pandemic."
Let's find out which 10 metros are now losing popularity as fast as they once gained esteem.
#10 – Houston, TX, with 20.6% of homebuyers taking flight. To put it another, that's just over 1 in 5 deals rocketing from Space City.
#9 – San Antonio, TX, with 21.1% of buyers standing down. That's roughly just over 1 in 5 people saying no to the home of the Alamo.
#8 – Fort Worth, TX, with 21.5% of buyers leaving Cowtown. Put another way, that's just over 1 in 5 deals put to pasture.
#7 – Tampa, FL, with 21.5% of buyers backing away from deals. With just over 1 in 5 saying no to the Suncoast city.
#6 – Phoenix, AZ, with 21.6% of buyers dropping their deals in the Grand Canyon State. To say it another way, just over 1 in 5 sales were abandoned in the Sonoran Desert.
#5 – Fort Lauderdale, FL, with 21.7% of buyers no longer interested in the Venice of America. That's just over 1 in 5 deals left on the beach.
#4 – Orlando, FL, with 21.9% of buyers saying no to the city of 100 lakes. That's just over 1 in 5 deals swimming away from O-Town.
#3 – Atlanta, GA, with 22.6% of buyers leaving the Big Peach in the basket. Put another way, that's over 1 in 5 deals left out to dry.
#2 – Las Vegas, NV, where I live, work, and play, has 23% of buyers saying no to the City of Second Chances. That's just under 1 in 4 buyers leaving the City of Light.
And #1 – Jacksonville, FL, with 26.1% of buyers paddling away from the River City. That's just over 1 in 4 buyers saying it's not easier here.
The Upside of the Downside - Opportunity!
It's mind-boggling just how fast the tides can turn in real estate.
According to Redfin, "these areas initially attracted house hunters because they were relatively affordable, but an influx of demand caused prices to skyrocket, rendering them less attractive to homebuyers."
Now they are witnessing an exodus of would-be buyers. This raises an interesting counterpoint… In the wake of declining homebuyer competition, is it creating an opportunity for ready homebuyers?
Think about it… If someone is selling a house, they have a reason why. They want to go elsewhere; otherwise, why are they selling their house? Whether across town or to a new area, they're ready to move on with their life.
They just need someone to buy their home first. Maybe that's you, and perhaps that seller is a bit more negotiable than before mortgage rates jolted the real estate market.
So, if you're planning on making a move, perhaps it's something to consider. Of course, that also goes for new home construction. Builders are offering incentives to qualified homebuyers again.
But first, we should discuss the financial risk of when deals go wrong.
The FINANCIAL RISK of Backing Out of Deal!
Catchy headlines are all fun and games until someone gets hurt, and it's your money at risk.
So when I read this post by CNBC, I was happy to see they mentioned "it's important to know the financial repercussions" in the title.
Here's the deal. A real estate contract is legally binding with specific terms, conditions, contingencies, and timelines agreed upon between buyers and sellers.
Because most Realtors are not attorneys, you have the right for an attorney of your choosing to review the documents at your discretion and own cost.
If a deal falls apart, provisions are made to protect both the buyer and seller.
That's one of many reasons it's so important to research the Realtor you work with before signing an agreement. If you want some help finding the right agent for you, contact my friends at home and money .com/ andrew. Thank you.
Top Reasons Why Buyers Walk Away from a Deal
Let's be honest; buyer cancellations are nothing new in real estate.
But, they can make for some clicky titles, or at least one can hope. So, after publishing this post, we'll see how well that worked for me.
To be clear, buyer cancellations happen in any real estate market condition. They occur for many reasons, with varying degrees of financial loss or not.
Whether a buyer gets to keep their money after a deal falls apart that's a different story. And that's what we're going to look at now, beginning with why people cancel contracts.
Realtor Magazine recently published an article with a survey of home sellers about why their deals fell apart from their point of view. The survey was conducted by Cinch Home Services.
Most notably, the leading reasons deals were canceled are as follows.
42% canceled due to mortgage application denial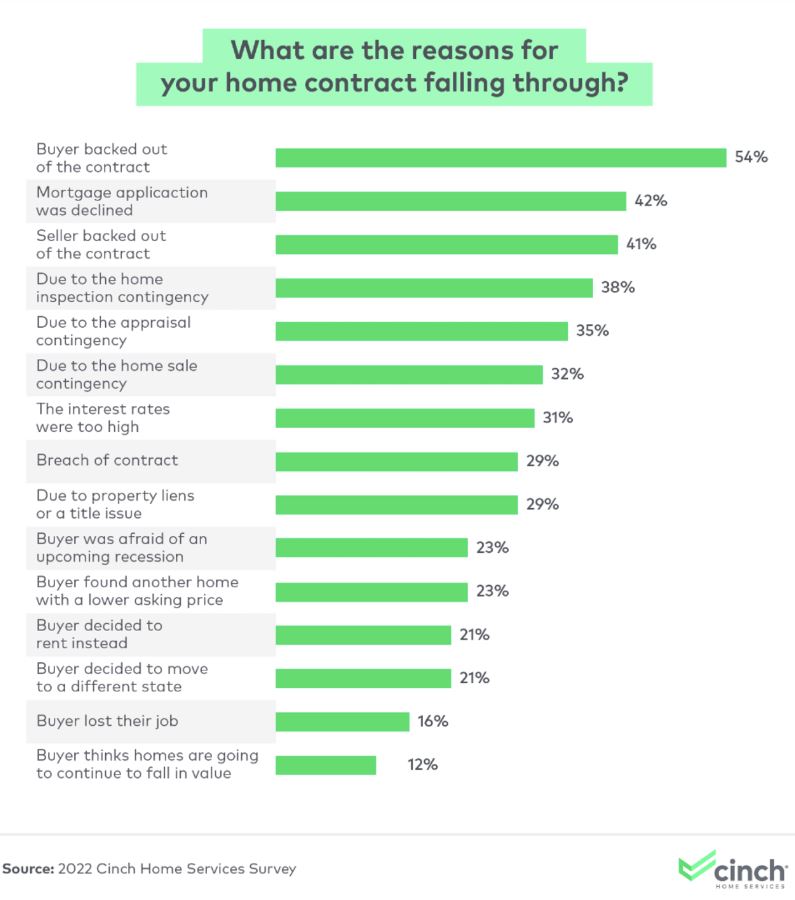 41% lost their sale because the seller backed out. Yes, that happens too.
38% of deals stopped because of the home inspection
35% because of appraisal issues
31% because mortgage rates are too high.
29% for breach of contract
23% because the buyer feared an upcoming recession
The list goes on, so I'll link it in the description if you want to check it out later.
So what happens to the buyer's earnest money deposit when the deal dies? Are they going to get their money back? In short, it depends. Sometimes but not always.
4 Questions: Will You Get to Keep Your Earnest Money Deposit?
From experience, when a deal goes South, there are 4 questions we need to ask first.
#1 - What real estate contingencies were in the contract, and for what period?
#2 - Is the buyer's cancellation within a specific contingency period?
#3 - Why did the buyer cancel the deal? Is the reason protected by a contingency or other terms of the contract?
#4 - Is the buyer within any contingency period that they will get their earnest deposit back or not?
Those are 4 questions I seek to answer when a deal breaks, whether I'm the buyer's agent or the listing agent in the transaction.
In real estate practice, I note all the terms, contingencies, and timelines for each deal I have the privilege to work on, no matter who I'm representing.
Now think of the 64,000 buyers that backed out of the deals. Based on the law of averages, a certain amount of them likely lost their earnest money deposit.
Keep in mind that this doesn't include the money they are out for their home inspection and appraisal.
You might've noticed in the 4 questions we just reviewed, there are two recurring words.
One is the earnest Money Deposit, or EMD for short. And two, the word contingency.
A contingency will help you minimize the risk of losing your EMD. So let's talk about what an EMD and contingency are in real estate and how it affects you.
What is an Earnest Money Deposit?
An earnest money deposit is essentially a deposit a buyer makes on a home they want to purchase. It is sometimes called a good faith deposit.
The amount usually ranges from 1%-3% of the home's sales price. However, sometimes it can be more depending on the price of the house and how many interested buyers are in the market for a specific property.
The EMD normally needs to be wired to the escrow account within 2 business of an accepted offer.
Afterward, the seller will usually not permit further showings as they work in good faith toward closing with the buyer.
So when you see homes online that are under contract, pending, or contingent, those terms indicate the seller has accepted the offer.
If the buyer does not close on the property for purposes other than the contingencies in their purchase agreement, they risk losing their EMD.
The earnest money deposit is considered liquidated damages due to the seller in such a case.
The logic is that the seller did not permit any showings on the property while they were in contract with a prospective buyer. Thus they lost the opportunity to sell to a different buyer that may have closed as agreed upon.
If a deal is canceled, how the EMD is handled and who gets it will depend on why the deal fell apart. The real estate laws governing purchase cancellations vary by state.
For more information, talk with your Realtor to better understand how this works in your state.
Common Real Estate Contingencies
Next, let's go over 6 common real estate contingencies in the United States.
For reference, a real estate contingency is an event or condition that must occur before the deal can close.
Common home-buying contingencies include the following:
#1 - Buyer due diligence period
#2 - Home inspection Contingency
#3 - Appraisal Contingency
#4 - Financing Contingency
#5 - Title Contingency
#6 - Contingent upon the sale of another property contingency, if it applies
I won't go into their nitty and gritty here to keep this video short.
But, if you want to learn more about any of these topics, I have hundreds of videos on my YouTube channel addressing them.
So should you buy or sell a house in a shifting housing market and uncertain economy?
Click here to find out questions to think through before making your move.
Thank you so much for reading this post! I'm sending you positive vibes everything goes your way! - Andrew Finney
Disclaimer: At the time of writing, Andrew Finney, S.0173260, is a real estate salesperson with King Realty Group (KRG) in Las Vegas, NV. Andrew's videos and blog posts are his own and do not necessarily represent the views and/ or opinions of KRG.