Can You Buy a House AFTER Forbearance? (Mortgage Forbearance Update)
Posted by Andrew Finney on Thursday, May 6, 2021 at 4:31 PM
By Andrew Finney / May 6, 2021
Comment
In the current over-heated real estate market Redfin announced the average cost of homes in the United States is 353 thousand dollars, …which is up 16.7% since this time in 2020.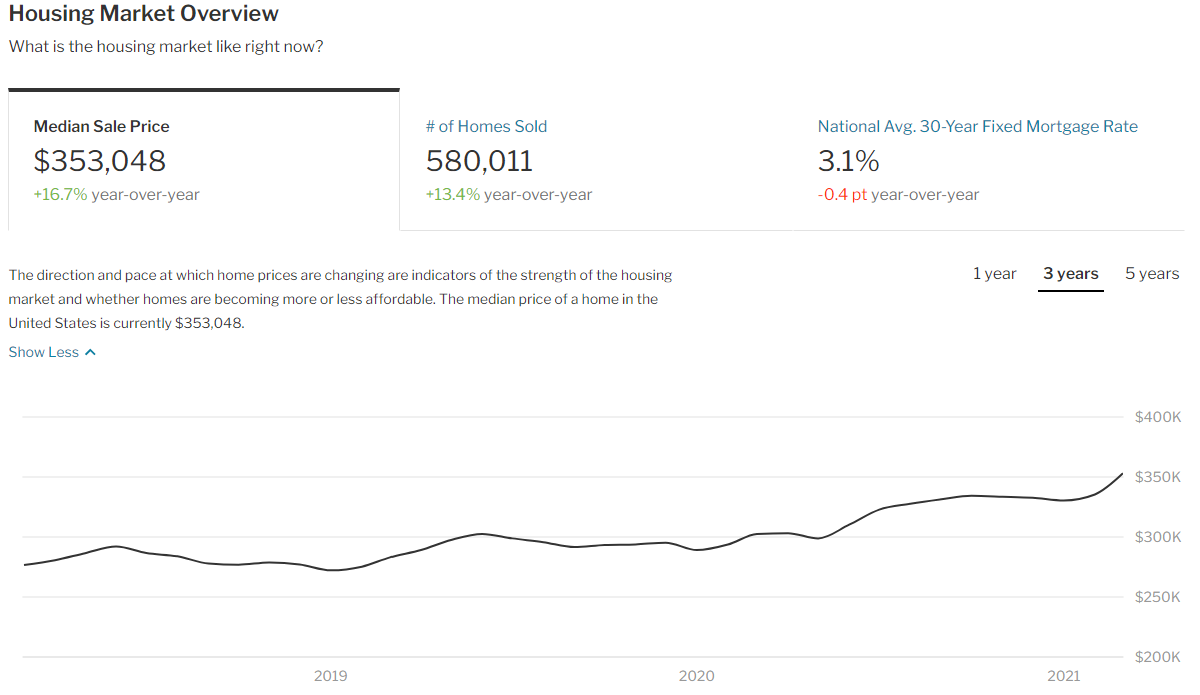 That's a staggering home appreciation rate, but is it sustainable?
The current rocketing home values have a lot of people wondering when the next housing crash will happen – after all, what goes up must come down, right?
How will all those underwater homeowners in mortgage forbearance affect the supply and price of homes as their forbearance plans expire?
If you are currently on a mortgage forbearance plan or you were, can you sell your place to buy a house? How does that work?
What You'll Learn
The current forbearance numbers from Q1 - 2021
The current housing supply
How to buy a house while in forbearance or after a forbearance plan ends
1st Qtr 2021 Mortgage Forbearance Rates
Leading mortgage data giant, Black Knight announced on Apr 23rd that overall mortgage forbearance numbers are slowly improving. That means the number of homeowners on an active forbearance plan is going down. Currently, roughly 2.3 million homeowners have loans in forbearance according to this report by Black Knight.
The Mortgage Brokers Association (aka MBA) backs up Black Knight's finding and breaks down forbearance numbers even further with what's happening to homeowners exiting a forbearance plan. Are foreclosures on the horizon?
The Apr 2021 MBA report found that of the homeowners who exited forbearance:
26.7% Received a loan deferral or partial claim
26.6% Continued to make their monthly mortgage payments throughout their mortgage forbearance plan.
14.6% Did not make all of the monthly mortgage payments and exited forbearance without a loss mitigation plan in place yet.
14.5% brought their past due payments current.
9.5% received a loan modification or a trial loan modification.
7.4% got caught up on their past due payments by refinancing or selling their house.
1.6% of people received repayment plans, short-sales, or a deed-in-lieu of foreclosure or other reasons for exiting a forbearance plan.
Ok, so you might be wondering about the "tsunami of foreclosures" some "experts" said is coming. The 2021 1st Qtr numbers are in courtesy of Attom Data.
Attom Data's Apr 15th report found that in the 1st qtr of 2021, lenders foreclosed on 7,320 homes nationwide. This is up 14% from the previous qtr and down 85% from a year ago. It took an average of 930 days or roughly 2.5 years to complete the foreclosure process of those homes. So that means these are foreclosures from late 2018- early 2019.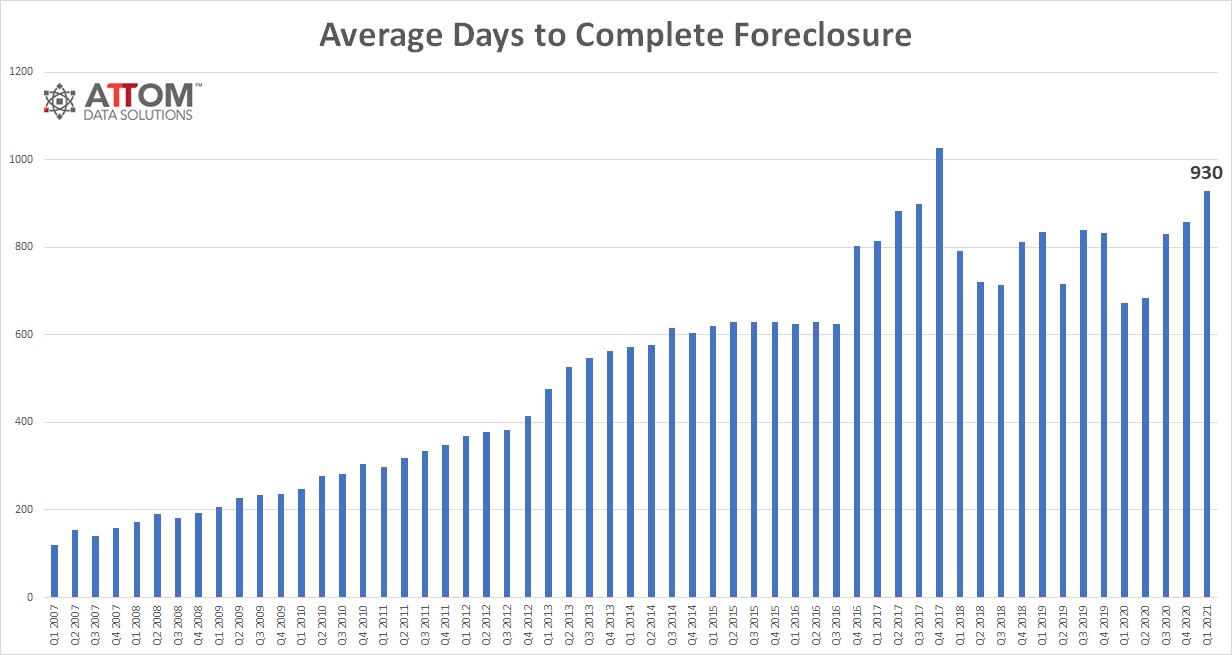 But what's happening with foreclosure starts right now?
In the same report from Attom Data, they found lenders have started the foreclosure process on 17,652 US properties in the 1st qtr of 2021. This is up 3% from the previous qtr and down 78% from a year ago.
Now, you could be wondering about that "foreclosure ban" thing you might have heard other people talking about… Well, it simply doesn't apply to everyone and is misleading information at best!
I'll continue to keep an eye on forbearance numbers and foreclosure activity to keep you informed moving forward.
Current Housing Supply
What's driving the insanely high home prices right now? In a word… Supply…
In this chart by FRED Economic Data we see the current supply of homes is roughly 3.6 months of home supply which is the lowest point since August of 2003. What's that mean? That means if no new homes came on the market, then within 3.6 months all of the available homes for sale in the United States would be sold out completely!
Between the still historically low mortgage rates hovering around an estimated 2.97% as we can see in this chart by FRED Economic Data. And the lack of homes available for sale, the current condition is a scorching hot seller's market! For a home buyer, mortgage interest rates are amazing!
But with very few homes available for sale and the average price of a house hovering around 353k according to Redfin, it also means you'll need fortitude and resolve like never before to buy a home of your own this year.
Can You Buy a House AFTER Forbearance?
In the video above from the Andrew Finney Team YouTube channel, Andrew interviewed Senior Loan Officer & Sales Manager Bill Merren with New American Funding.
Bill shares the changes to lending guidelines for people in an active forbearance plan or who have exited a forbearance plan. It's important to remember everyone's situation is unique and different so actual results may vary.
Here are the ways someone can buy a house while in or after exciting a forbearance plan:
You might be in a forbearance plan without your knowledge or you may have requested to be in a forbearance plan just as a precaution and still continued making your mortgage payments. If this is the case, provide your bank statements to your mortgage service provider to update your records to show you are no longer in a forbearance plan.
If you opted into a forbearance plan and you missed your mortgage payments then you have a couple of options as listed in points 3-4 below.
The first option, if you have the money, is to bring your mortgage current by paying off the past due mortgage amount, then you'll be eligible for a home loan.
The second option (and the most common option) is to sell your house if you have enough equity in your home. Then you'll be eligible for a new mortgage.
Next Steps
Hopefully, you're feeling much more confident about applying for your next mortgage now! Be sure to grab your FREE Mortgage Application Tips Infographic and, if you're ready, get your home search started using the Las Vegas Homes Sale search below.
Download your FREE Mortgage Application Tips Infographic here.
Thank you so much for reading this post! I'm sending you positive vibes everything goes your way! - Andrew Finney
Disclaimer: At the time of writing, Andrew Finney, S.0173260, is a real estate salesperson with King Realty Group (KRG) in Las Vegas, NV. Andrew's videos and blog posts are his own and do not necessarily represent the views and/ or opinions of KRG.